9 simple steps to join Bebat
You're convinced. Joining Bebat will make your life a lot easier. Because Bebat takes care of most of the details of your battery take-back obligation.
Welcome to our declaration platform!
Why become a participant? Just as a refresher.
As a manufacturer/importer of batteries, or devices that run on batteries, sold on the Belgian market, you are (among other things) responsible for the collection and recycling of waste batteries.
If you become a Bebat participant, you enjoy all the benefits of the collective system that Bebat has set up in connection with this take-back obligation. One of the few obligations you still have is to indicate (declare) how many batteries you have sold on the market. Under 10,000? Then an annual declaration will be enough. Over 10,000? Then you have to make a monthly declaration. How? On MyBatbase!
To become a Bebat participant requires a few steps on MyBatbase:
State which types of battery you sell on the Belgian market.
Fill in your company details.
Submit your membership application.
On the MyBatbase platform, the "authorised signatory" electronically signs the Accession Agreement ... and your company or business is a Bebat participant, getting rid of a host of to-do's!
Can you also register your company using pen and paper? No, it can only be done online, electronically. Easily and quickly.
On the MyBatbase homepage - Register your company – you will see a countdown timer telling you how long it will take to fill in the information. On average, it takes 18 minutes.
Would you like to do it even faster? That's possible. But it's even more important to fill it in correctly :-).
Tip: make sure you have all the information to hand: your company details, your business bank details (what was that BIC number again?), etc. Then you won't waste any time filling out the form.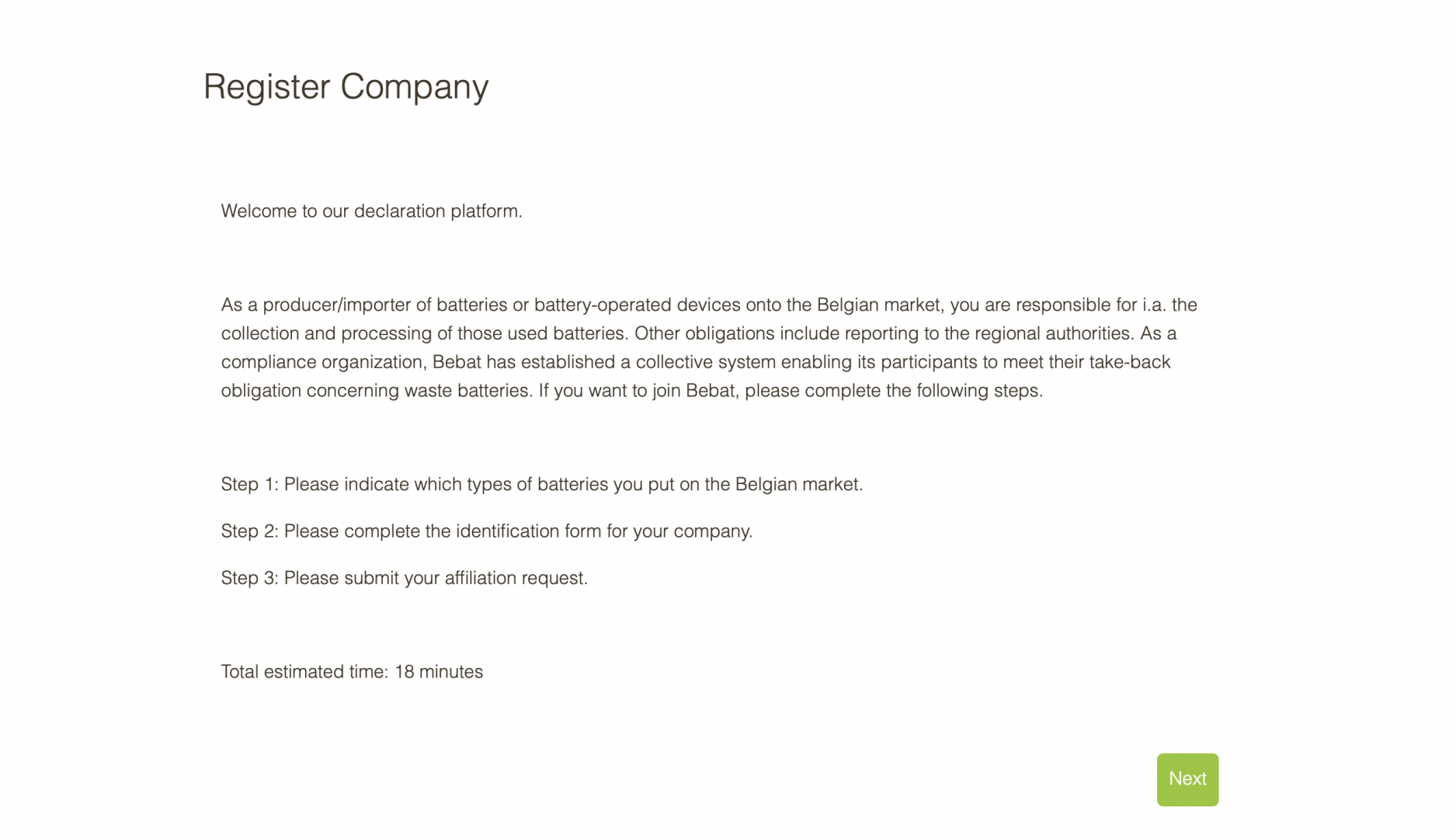 Step 1: State which types of batteries you sell on the Belgian market.
In this step, we ask what batteries you put on the market. We make a distinction between:
Portable batteries are standard batteries, e.g. in watches, remote controls, etc.
Automotive batteries (lead or lithium-ion) are cold-start batteries for starting an internal combustion engine.
Industrial batteries are specifically designed for professional or industrial applications. A battery weighing more than 3 kg that is not an automotive battery is always considered to be an industrial battery. This also applies to batteries used in any type of electric vehicle. For example: the battery of an electric bike, industrial cleaning machine, emergency lighting, energy storage, forklift truck, ... even if it weighs less than 3 kg.
You're not sure? With this handy decision tree you can easily determine which category a battery belongs to.
This is important because the take-back obligation for certain types of batteries, especially large industrial batteries of > 3kg and lead batteries of > 20 kg, is slightly different to that for the well-known AA batteries, button cells, and so on. For smaller batteries, there are Bebat's 23,514 collection points.
Large industrial batteries, especially Li-on batteries > 20 kg, require a separate approach when it comes to collection, transport and recycling. If you are a participant, Bebat will help you pursuant to an individual contract for a tailored service. 
Read more about such an individual contract here.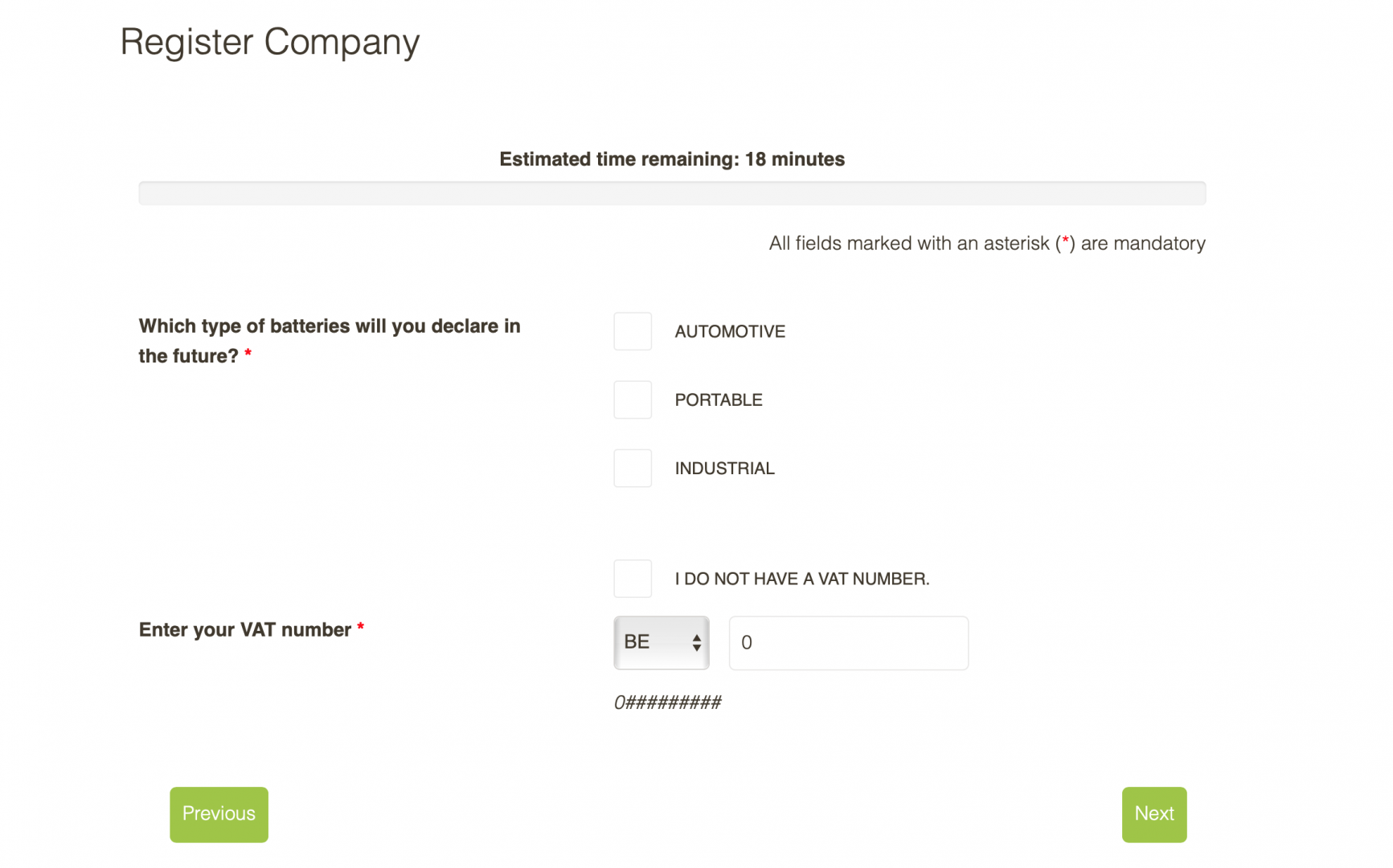 Step 2: Set out the activities of your business or company.
Here you indicate exactly what your activities are, in which sector(s) you operate, through which distribution channels, what type of products are involved, ...
In this way, Bebat gets a clear picture of how (products with) batteries reach the Belgian market. These details all help to map out properly the flow of batteries. In order to achieve as clear a picture as possible, it is important that you fill in everything - and correctly.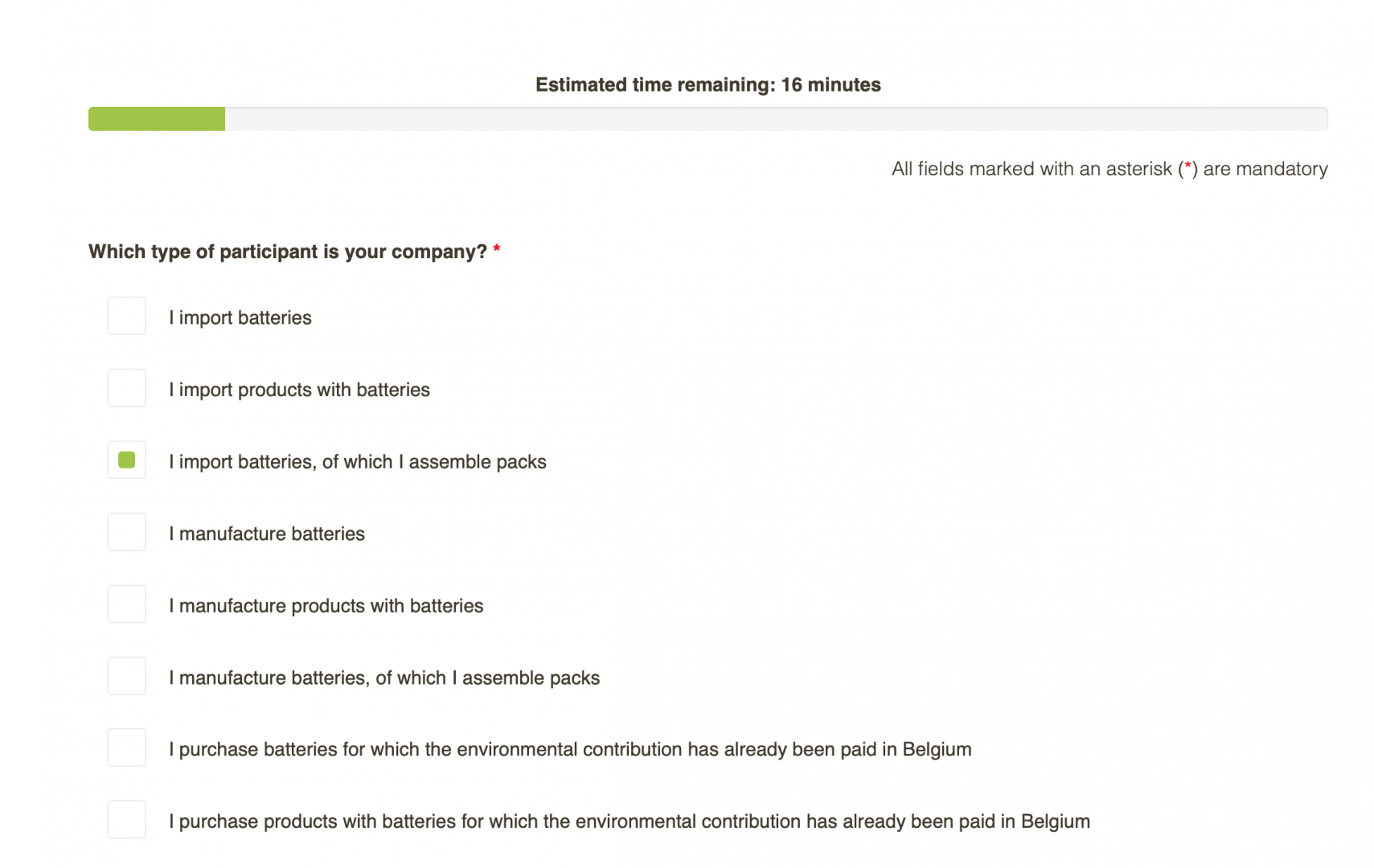 Step 3: Share the data to identify your company.
Because it is your company that's joining, it is important that Bebat knows exactly which company it is, where it is located, under which legislation, etc. 
Why is this important? Bebat concludes an agreement with your company and therefore it is important that your details are correct. Your company will also be included in the register that must be kept in accordance with European and regional legislation. In addition, the name, VAT number and address of your company will be included in Bebat's list of participants. In this way, other companies can see that you meet your take-back obligation via Bebat. 
Step 4: Fill in the details of the 'authorised signatory'. 
Joining Bebat is an easy, but serious step. So, an official 'authorised signatory' must be provided. Who signs the Accession Agreement and the Rules of Procedure? A person authorised to bind the company.
Step 5: Fill in information that is important for the declarations.
Here, Bebat asks how many batteries you plan to declare on an annual basis. More or fewer than 10,000 batteries?    
Did you sell under 10,000 batteries in the past year? If so, one annual declaration will suffice.
Is it over 10,000 per year? Then you switch to monthly declarations.
You complete these on the MyBatbase platform. 
Tip: monthly declarations? It is important that you add the correct nomenclature number per type of battery sold.
At this step, you also enter the details of the person responsible for the declarations.
Step 6: Fill in your bookkeeping details.
The payment of environmental and administrative fees per battery sold and the lump-sum participation fee is an operation for your accounts department, so that data must also be entered.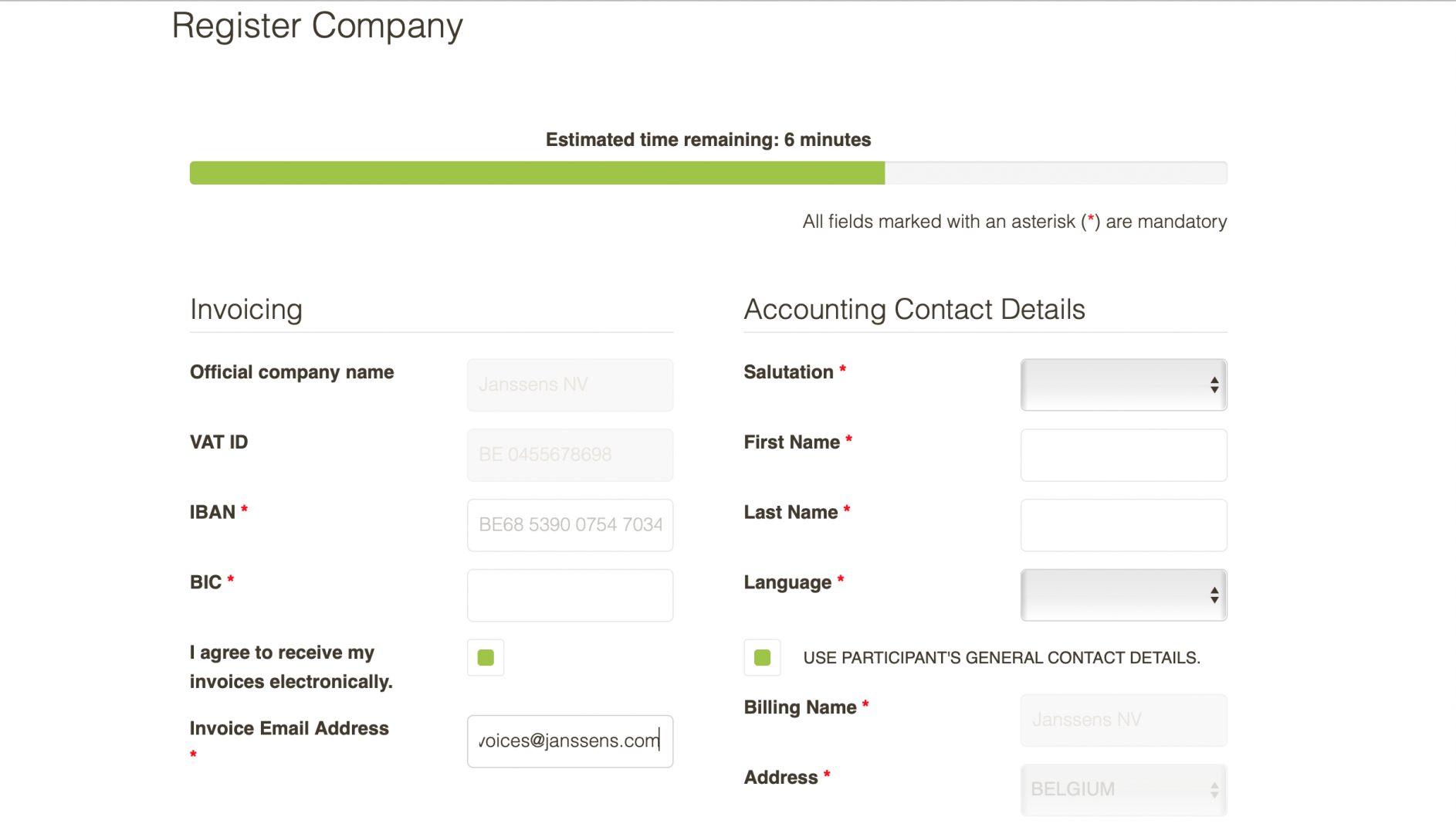 Step 7: Fill in the details for the audit.
Each Bebat participant is subject to an inventory (or audit) of the declarations only once every three years - as required by law. During the audit, a check is made that the declarations are in line with reality. In some cases, this is done online via a questionnaire. In other cases, the audit is carried out at your company or business premises, by a specialised team.
We ask you to fill in the details of the person we can contact to carry out the audit. You must also include the address where the audit is to take place. It is important that you should easily be able to retrieve information from your accounting records at this location. We will also look at the products you sell and it will be helpful for these to be shown during the audit.
Afterwards, you will receive a report with tailored advice on how to prevent errors and to submit correct declarations. To make (more) correct declarations, you can learn a lot from this overview of frequent errors.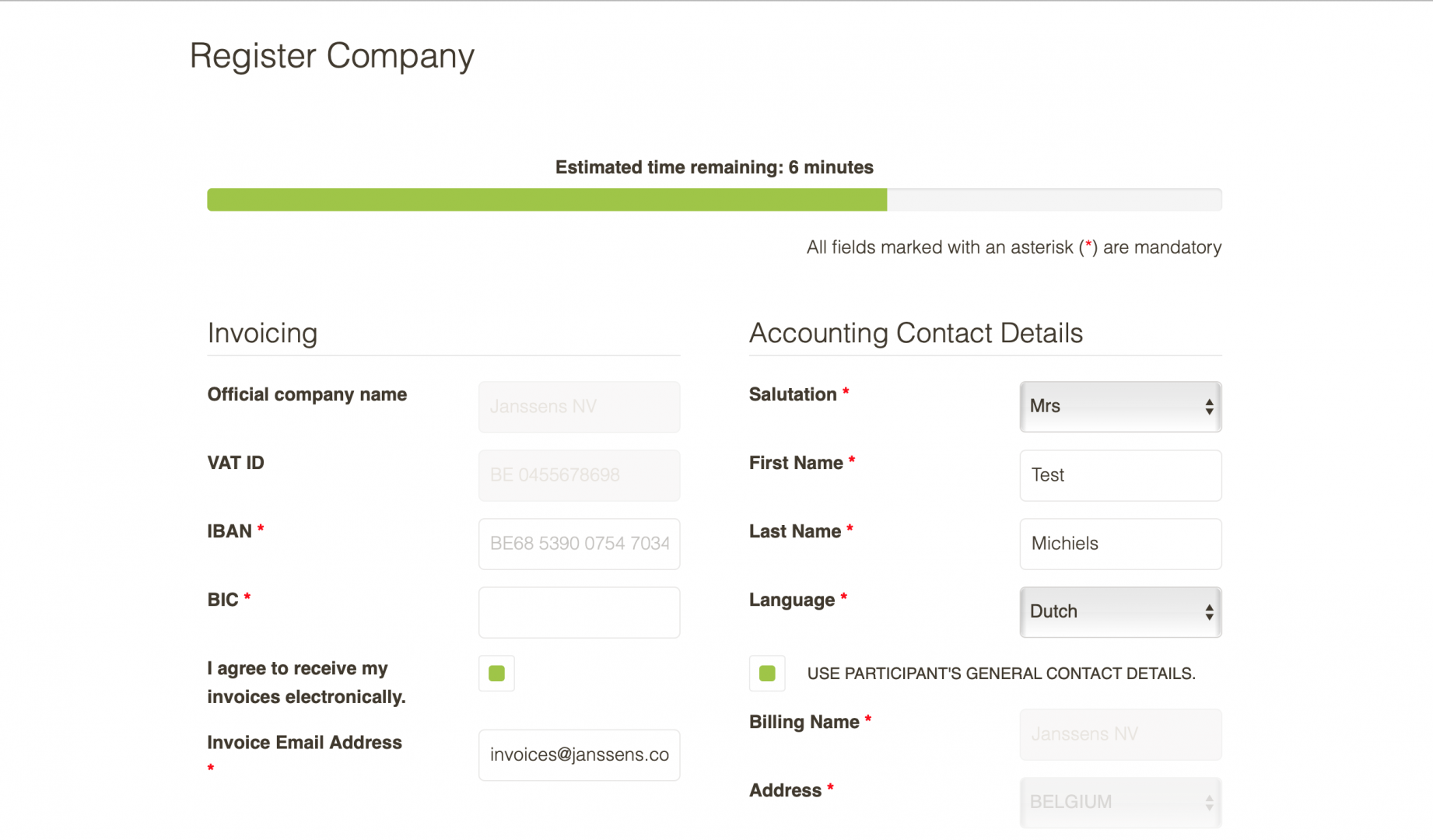 Step 8: Your 'authorised signatory' receives an email to approve and sign the agreement 
When doing the registration, you leave your contact details to make sure that the 'authorised signatory' will receive an email with the message: "<name> has made a membership request. Via this link you can sign the Accession Agreement." 
Do you want to take a look? You can download the full text of the agreement here.
Step 9: The authorised signatory signs the agreement electronically
Here you can consult the company details, update your personal data if necessary and sign the Accession Agreement to Bebat. 
After signing, you will receive a letter explicitly confirming that the Accession Agreement has been signed. This letter can be found at https://mybatbase.bebat.be/ under "My Information Centre" - "Data/Documents/Invoices". Click on "My membership agreements" and then on the pdf to view this letter.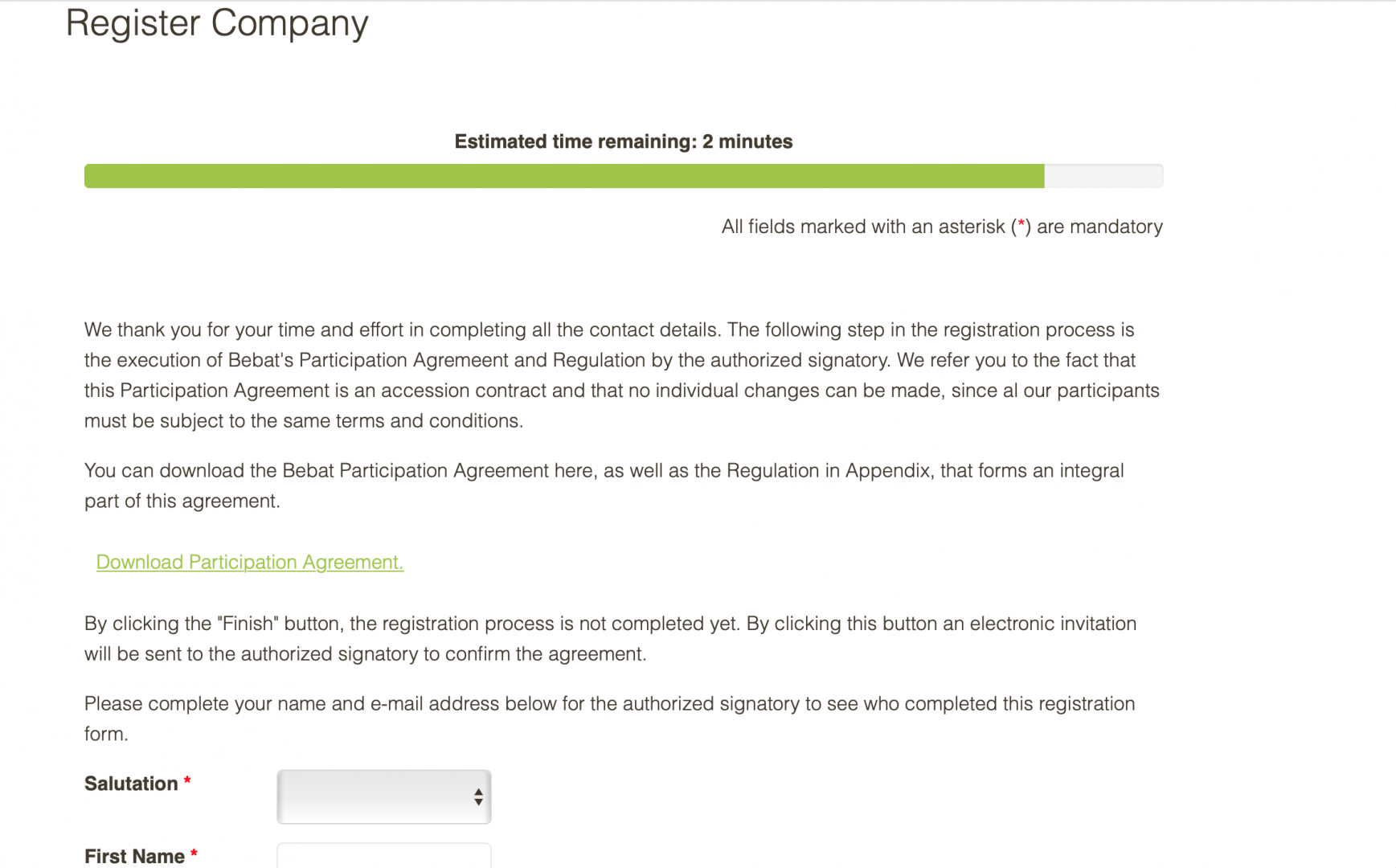 Some frequently asked questions
Can I join using paper-based forms at a counter?
No. As stated above, you can only join electronically online. Up to and including the signing of the agreement. Easily and quickly, via the myBatbase participant platform.
If you are unable to do so, you can contact Bebat's Customer Service Team by telephone + 32 (0)16 76 88 91 or by e-mail at participants@bebat.be.
How much does it cost to become a Bebat participant?
Once you have registered, you pay an annual administrative participation fee of 60 euros (ex. VAT). Then, monthly or annually (depending on whether you supply more or fewer than 10,000 batteries to the Belgian market), you submit a declaration stating the number of batteries sold. On the basis of that, you pay environmental and administrative fees.
Am I obliged to become a Bebat participant?
Do you fall under the take-back obligation? If in doubt, take the test and find out.
Joining Bebat is not obligatory. You can also comply with all requirements of the battery take-back obligation yourself. But, in practice, 'doing it yourself' is a choice few companies make. Read here what Bebat does for you.
Any further questions before you join us?
This overview of frequently asked questions (FAQ) should certainly help!
You will see, if you have the necessary data to hand, you will certainly be able to complete your registration with Bebat in under 20 minutes. And then the take-back obligation will weigh a lot less upon you.
Don't delay, get started on MyBatbase !