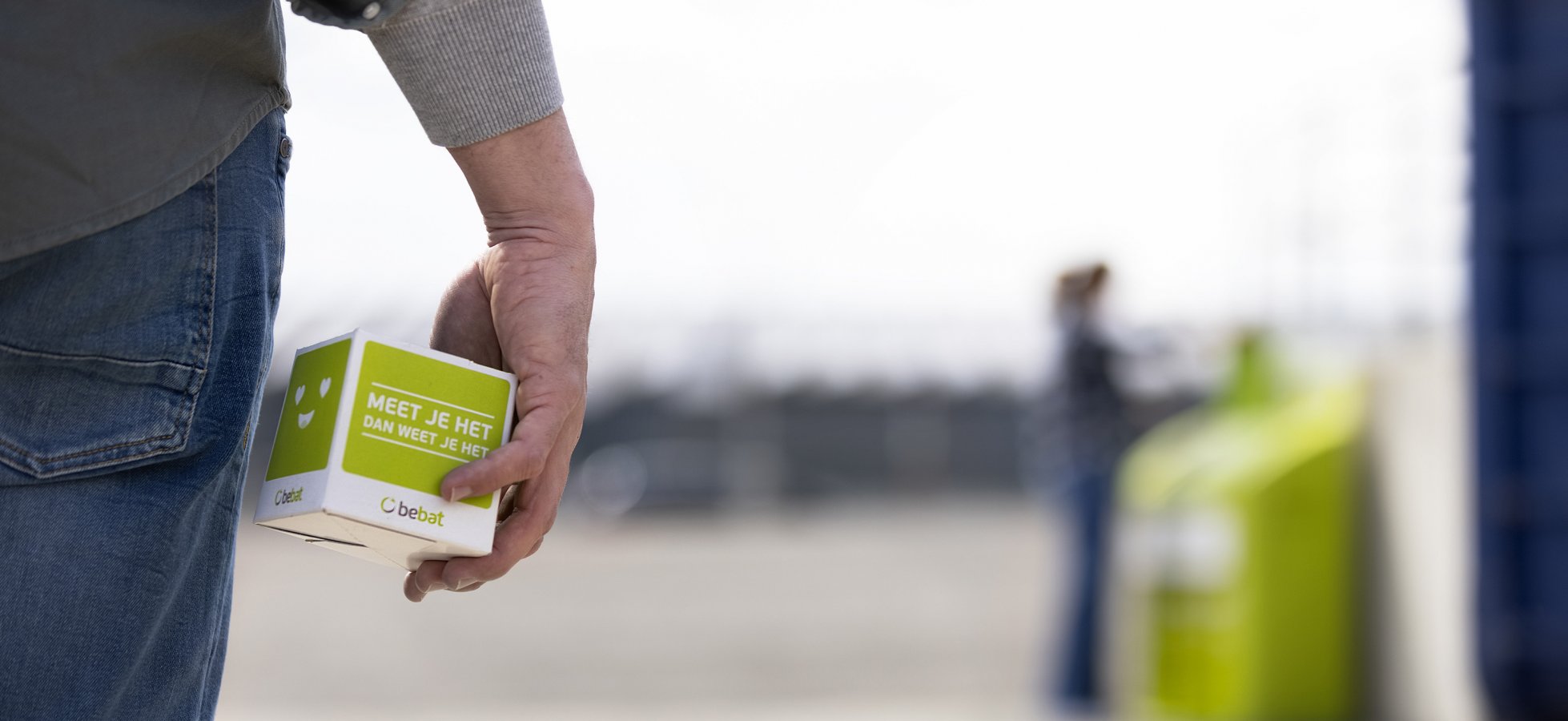 Recycling batteries, that's what we Belgians do best. In 2020, we collected no less than 3,357 tonnes of used batteries across 24,000 collection points; a great result that puts us in first position in Europe. And you can be proud of that! However, as more and more, and increasingly powerful, batteries come onto the market, it's time to update our collection methods so that they remain safe and sustainable with a view to the future.
That is why Bebat has rolled out a new collection system, with redesigned collection boxes, smart collection units and adapted rules that put safety and sustainability first.
Find out in this article how you can collect batteries in the best way, and which ones you can take where from now on.
Used batteries are no longer of any use to you. Fortunately, most people now know that batteries deserve special attention when they are used up. After all, they still contain plenty of scarce raw materials that we can simply reuse after recycling.
The positive effects of our recycling efforts are:
recycling batteries reduces the amount of new raw materials that need to be extracted;
thus reducing the burden on the environment; and
we can continue to use batteries as a clean source of energy.
Moreover, the recycled materials can also be used for all kinds of other applications, such as spectacle frames, watering cans, tricycles or wheelbarrows.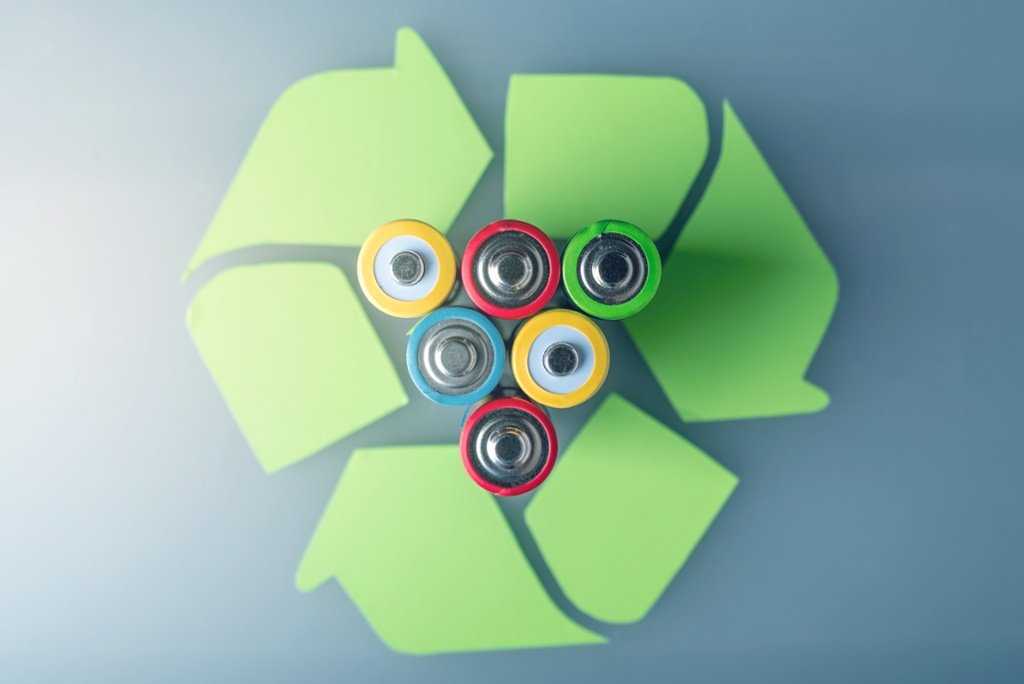 Collecting and returning batteries: the new method
In the global search for environmentally-friendly energy solutions, batteries play a major role. This can be seen, for example, in the rapidly growing market for electric vehicles and home batteries. But even in smaller devices, like your phone and computer, batteries are becoming more powerful and ingenious. To keep up with this rapid evolution, we also need to adapt our collection behaviour to the new wave of batteries that is coming.
Here you can find all the details about Bebat's new collection method.
The Bebat cube measures, collects and transports
The Bebat collection cube is a useful tool for collecting batteries. It measures your used batteries and tells you where to drop them off: at a school, at a shop or at a recycling centre.
When you have collected your batteries in the cube, you can simply close it and take it to a collection point. After emptying it, you can just reuse it. Convenient and sustainable!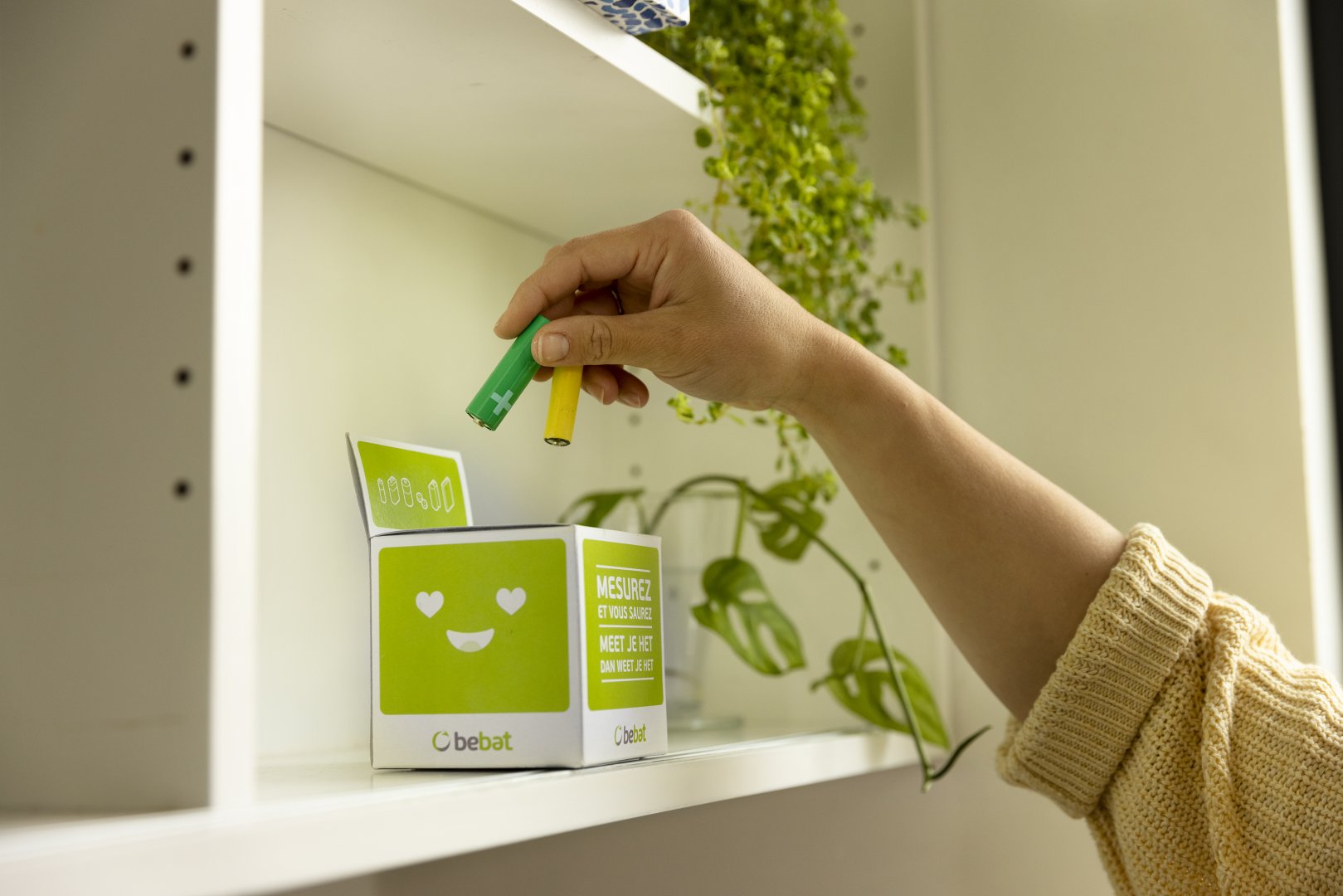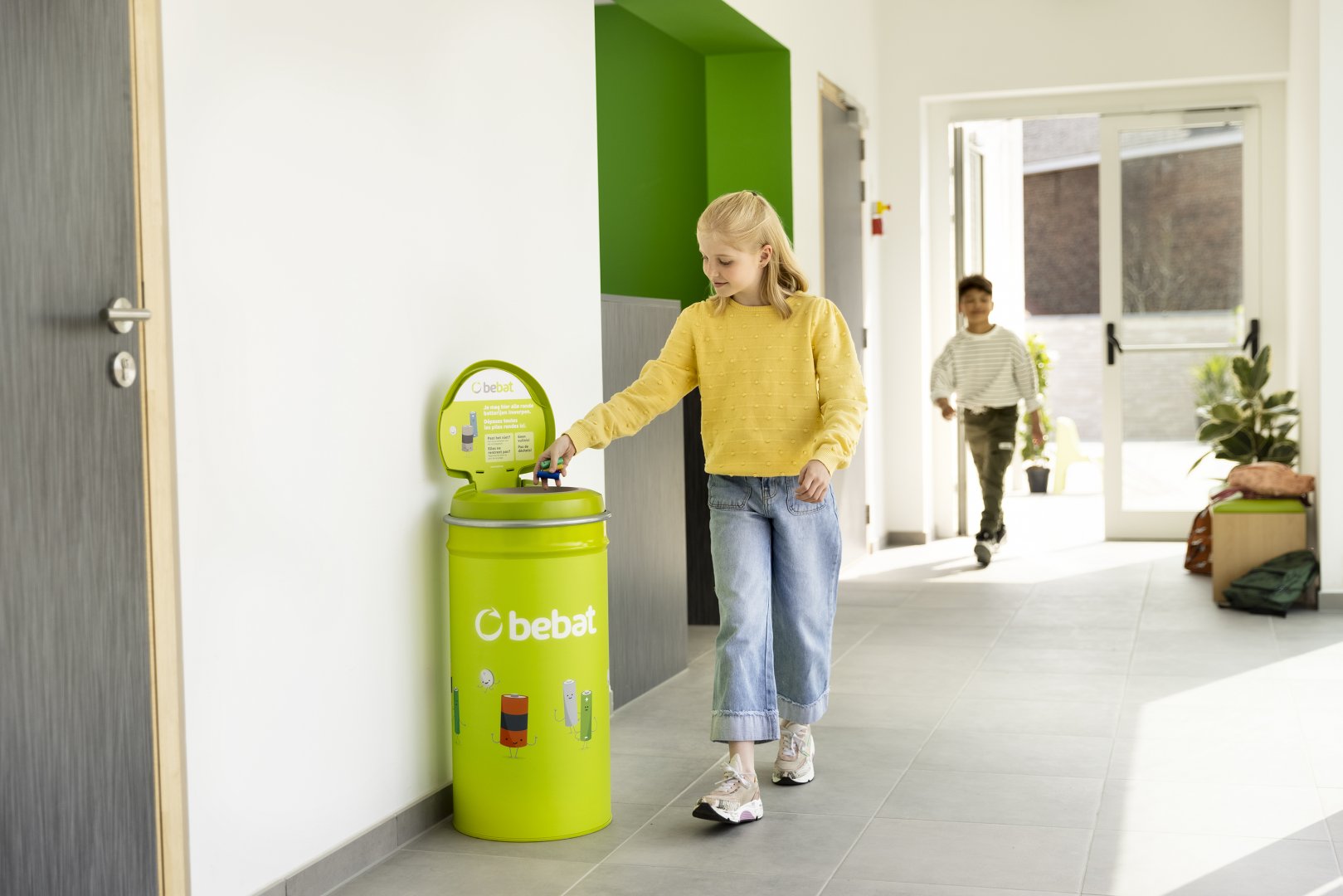 Collection in schools: small batteries
As you might expect, the 'strictest' rules apply in schools. There, you may only take small household batteries, such as AA, AAA, 9 volt batteries and button cells. Fortunately, these are the batteries you come across most often in your household appliances.
Do the batteries not fit through the circular insertion opening? Then take them somewhere else, such as to a collection point in a shop or to a recycling centre. If you are not sure whether a battery is welcome at a school, use your Bebat cube at home to measure it. Does it fit through the circular opening? Then it can go into the collection unit at school.
Bringing them to a shop: small and medium-sized batteries
The small batteries that you can collect in schools are of course also welcome at retail collection points. However, a couple more are allowed there. Medium-sized batteries, such as the battery of your smartphone or camera, a larger (rechargeable) flashlight battery or a block battery can also be placed in the unit.
In short: all batteries that fit in the Bebat cube (not just through the circular opening) may be put in the Bebat collection unit in shops or businesses.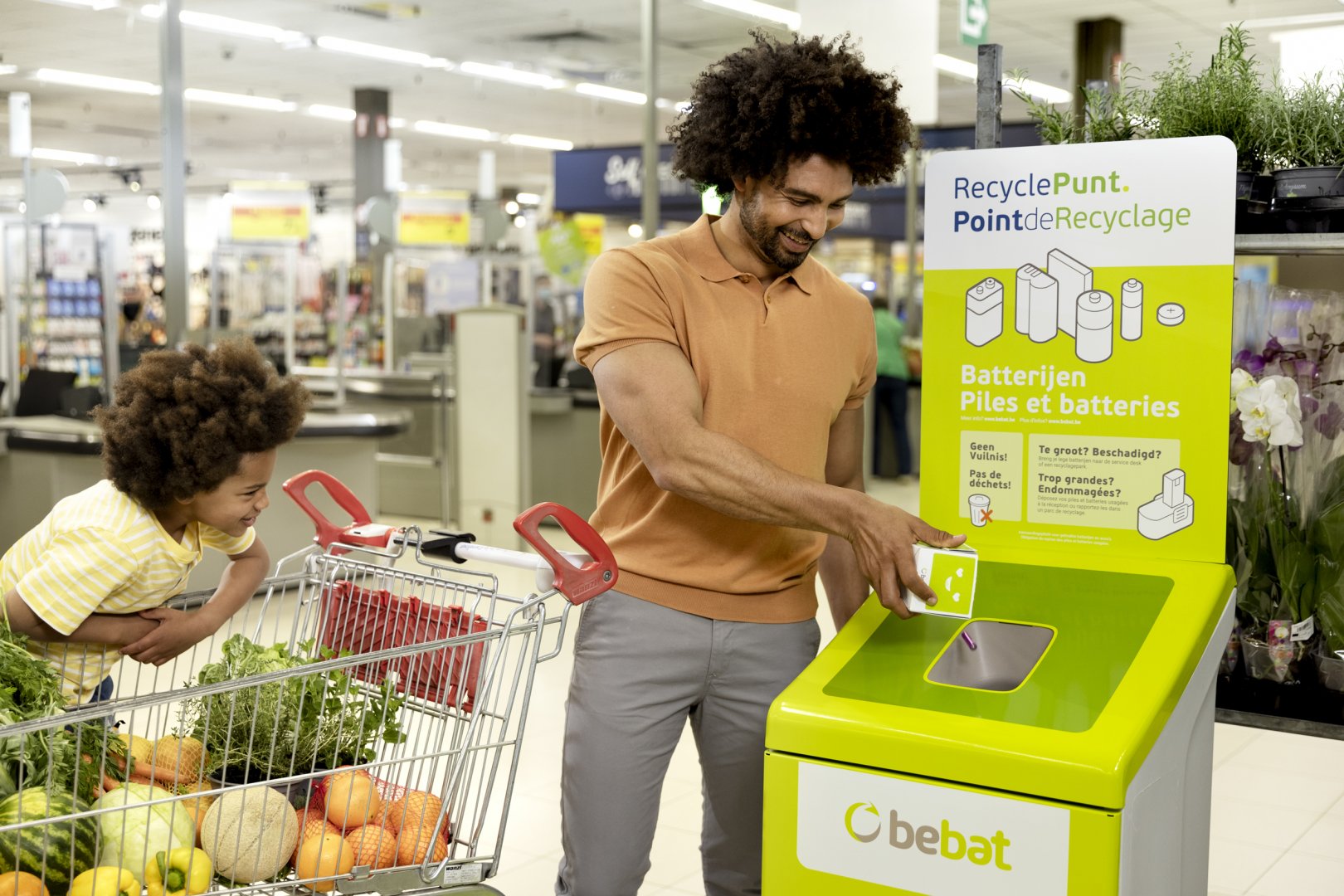 To be taken to a recycling centre: large and damaged batteries
Small, large, very large or damaged? The recycling centre is the place to go for all sorts of batteries. After all, in addition to the regular Bebat collection unit, there is also an extra-safe, extra-large container especially for your large and damaged batteries. Think, for example, of the battery of your electric bicycle, your laptop battery or the large battery of a drilling machine.
If the battery is too big for your Bebat cube, take it straight to a recycling centre.
The new Bebat collection units
Not only the boxes, but also the Bebat collection units have been given a makeover. They are now even safer and more sustainable than before and equipped with a smart lid.
Metal drums have replaced the plastic ones. Metal has a higher reusability, this way we reduce the use of plastics.
The insertion opening has been made smaller. In schools, only small batteries fit in the container, and in the other collection points also medium-sized batteries. For large and damaged batteries, Bebat developed a special container for recycling centres.
The Bebat drums have been given a smart lid, which can measure how full they are. When the drum is full, it is automatically collected, so that no full barrel is left standing for too long. That way, you don't run the risk of running into an overflowing collection unit in which your batteries no longer fit.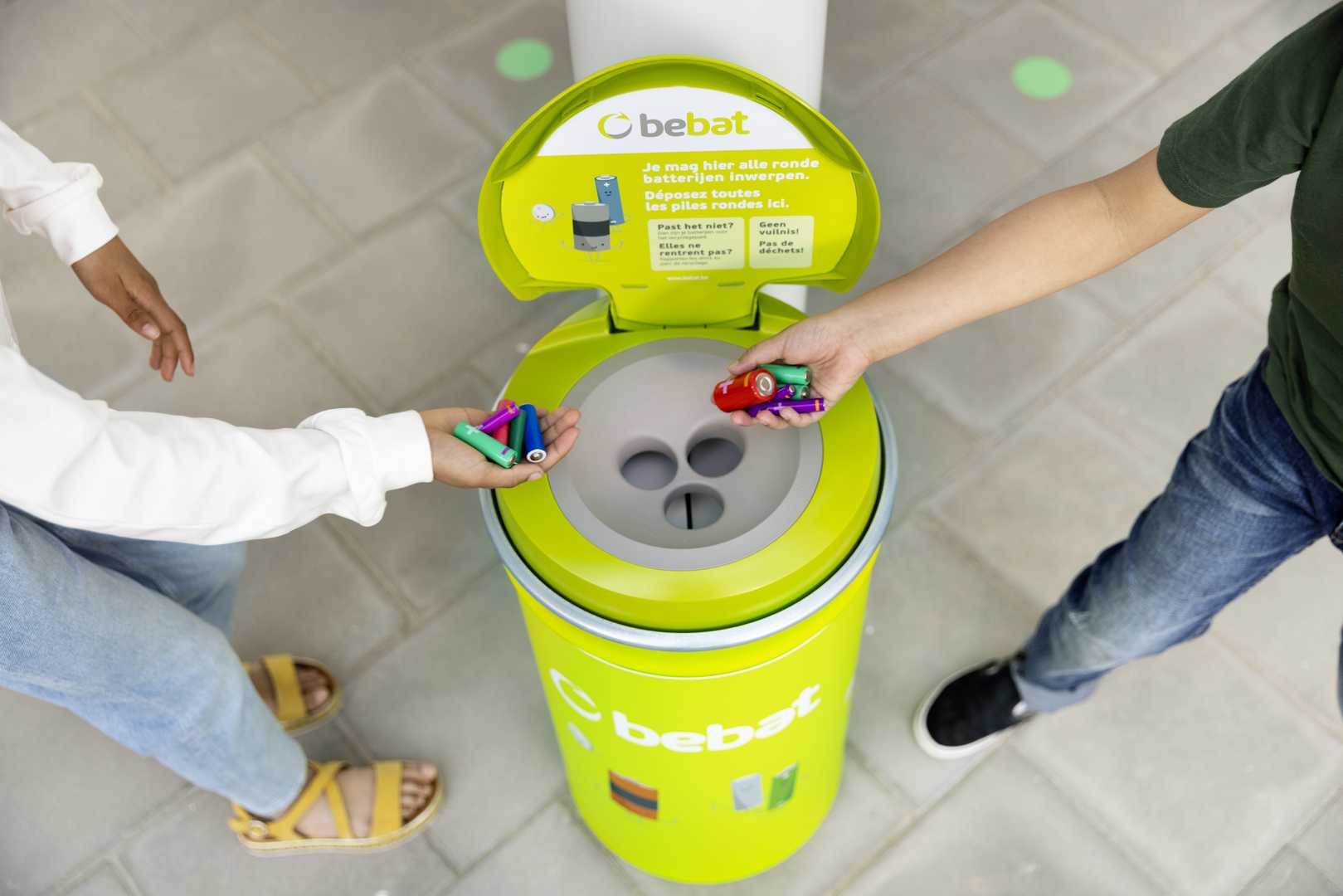 What if you are unable to remove the batteries from the device? Then, there's Recupel.
What is Recupel?
At Bebat we ensure correct, environmentally-friendly recycling of your discarded batteries. Our colleagues at Recupel actually do the same, but with old electronic appliances and light bulbs. The devices are first thoroughly checked. Can they be repaired and reused? Then they go to De Kringwinkel.
Do you have an electrical appliance you want to get rid of? First check if there are batteries in it, take them out and bring them to Bebat. The appliance itself should be taken to a Recupel collection point. In many places, you will find Bebat and Recupel collection units conveniently located next to each other. Easy, if you want to bring something in for both!