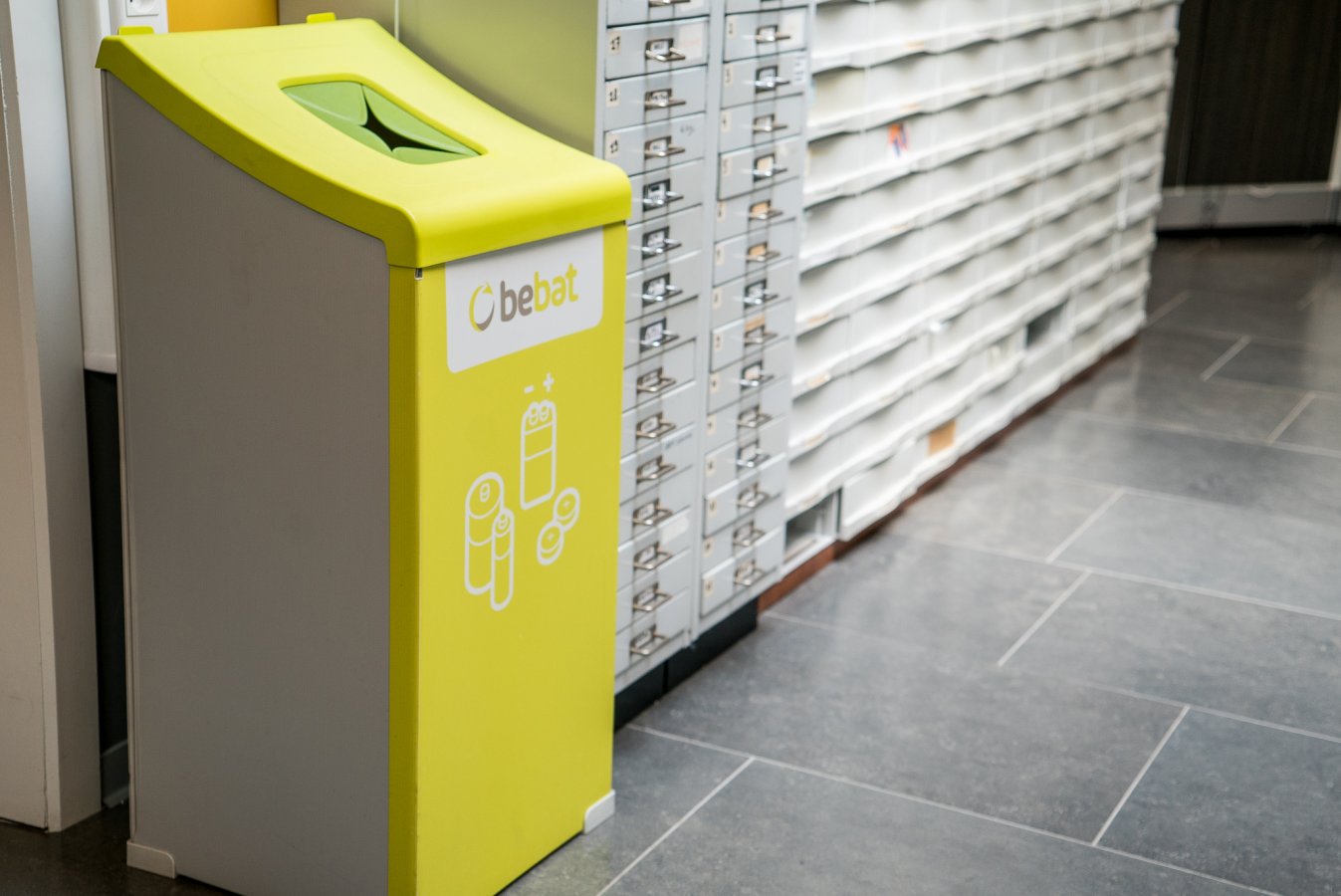 'Becoming a Bebat collection point is part of our ecological DNA'
There are over 200 Selexion businesses, independent 'electronics and more' specialists in Belgium, many of them a household word in their region. They sell a great many battery-operated appliances and are therefore obliged by law to take back these batteries. How do they deal with that? We asked Marketing Manager Johan Verelst.  
Hoogstraten, the strawberry city of the Antwerp Kempen region. Selexion Laureyssen is a byword here, with a wide range of electrical goods, photography equipment, computers, etc. Specialist service with a smile. And repairs done in house. Here you can find the Bebat collection barrel standing right beside the Recupel container. We went along to meet the Selexion Marketing Manager.
Johan Verelst: 'We are service providers by nature. And that explains a lot. Each Selexion business has a technical workshop where all sorts of repairs are carried out after the manufacturer's guarantee has expired. You can even pay for repairs to A+ and A++-operated devices using ecocheques. That's good for the environment. And so many of our members have become Bebat collection points.'
Service providers with an ecological reflex, that's Selexion.
How important are battery-operated products?
'The number of devices with rechargeable batteries that work with Wi-Fi and Bluetooth is clearly increasing. Everyone wants to be mobile in every possible area. When it comes to batteries, we of course comply with the legal requirements. The environmental contributions are met, we report to Bebat how many batteries and battery-operated products we bring to market. Bebat then passes that on to the Belgian authorities.'
What else does Bebat do for those who bring batteries to the Belgian market? 
'But above and beyond the legal obligations, we go a step further. Voluntarily, because we don't impose obligations. But the ecological reflex is part of the Selexion DNA. For example, we sort polystyrene, which is collected separately and then processed to make insulating foam concrete. We pay particular attention during staff training sessions to the proper installation of appliances to avoid wasting power and water. And we work closely with Bebat for the collection of discarded batteries.'
Do you provide safety advice on batteries?
'Of course! We advise our customers to read the manufacturer's instructions for use carefully. And to disconnect chargers from the power grid at night. Along with other electrical appliances, for that matter. That can soon save you €200 a year in energy costs. At first, you can charge the battery fully and let it run down once, but after that, 80% and 20% are ideal. Our specialists are always ready to answer questions about the correct use of wireless appliances.'
What prompted you to become a Bebat collection point?
'Environmentally responsible business is one of our goals. I think a number of Bebat field promoters have played a major role in creating collection points. And we advise it. It doesn't cost anything.'
What batteries do people mainly bring in?
'The majority are AA and AAA batteries, as well as mobile phone batteries, etc. It's a varied mix. We also receive batteries in old appliances. For that matter, we will shortly be organising our Smart Exchange Weeks again. In exchange for an old appliance, you are given a discount on a new one. We can rely on Bebat to collect and safely process the discarded batteries.'
What is the collaboration with Bebat like?
'The affiliated businesses are very happy with this. No complaints. Everything runs smoothly: Selexion and Bebat go well together!'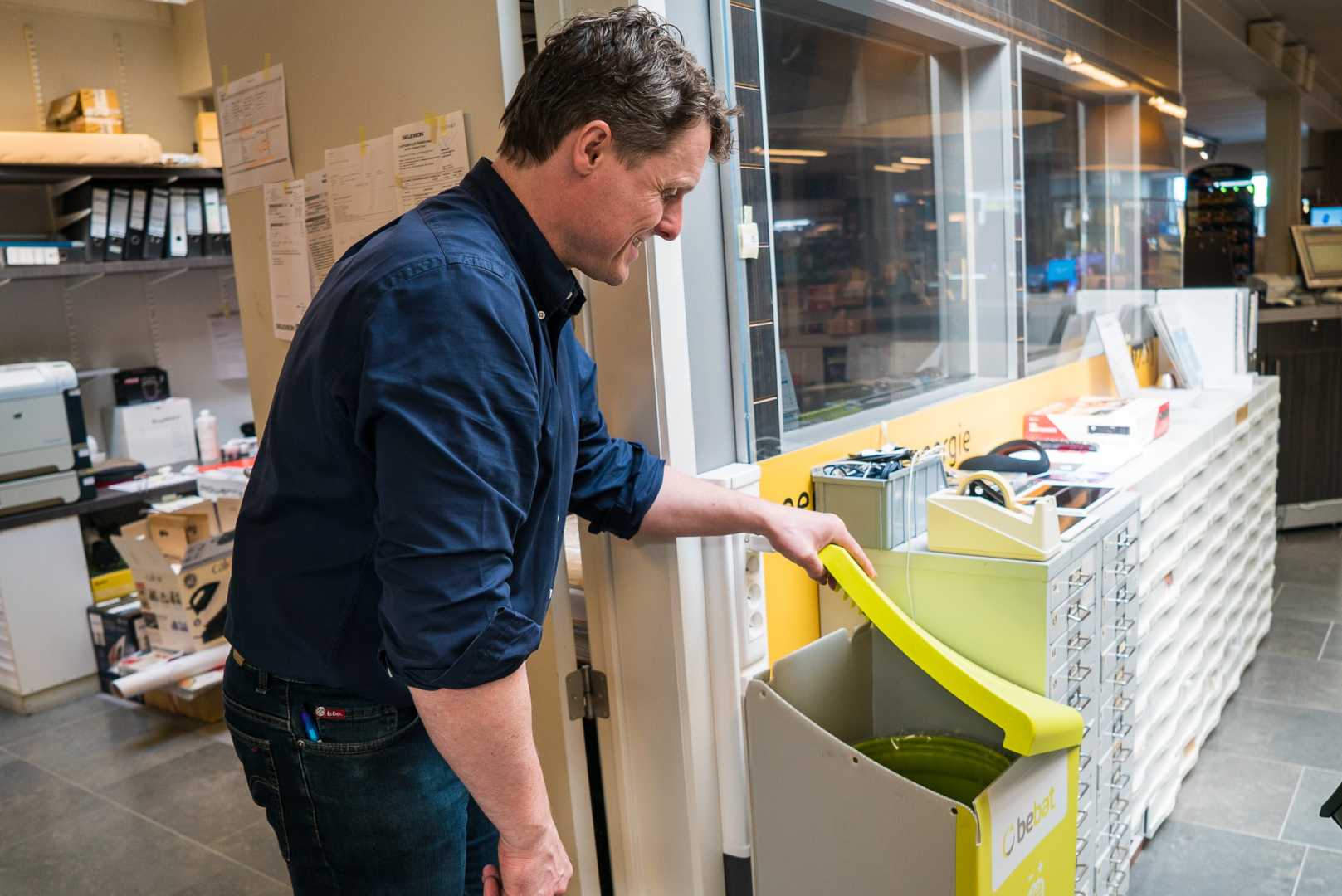 Sales point for batteries (and battery-operated appliances)? Obligation to take back batteries
Every sales point selling batteries or battery-operated appliances is obliged by law to take back used batteries. You can organise it yourself, but most businesses deal with this easily by becoming Bebat collection points. And that includes the Selexion group.
Do you have a company or a business and would you like to become a Bebat collection point, too?