How did Belgium – the battery collection champion – do in 2020?
Bebat recently published its annual report, and that means again a lot of interesting facts and figures on how Belgians collect used batteries. Below is an overview of our most striking findings for 2020.
More than 3,350 tonnes of used batteries
No less than 3.357 tonnes of used batteries - or the collective weight of more than 500 elephants - were collected by the Belgians in 2020. That is equal to 10.650.000 consumer movements! Just like the years before, with just over 3,350 tonnes collected in 2020, Belgium leads Europe and the world in battery collection. 
With a collection percentage of 59.3%, Belgium scores well above the European standard of 45%. And that does not even take into account the long life cycle of batteries. So we also regularly check the collection efficiency and there we achieve more than 90%. That means that out of every 100 kg of household waste, there is only one stray battery to be found.
No wonder the figures show that 95% of Belgians know how we work, and that the name Bebat is familiar to 90% of them (compared to 51% in 2010).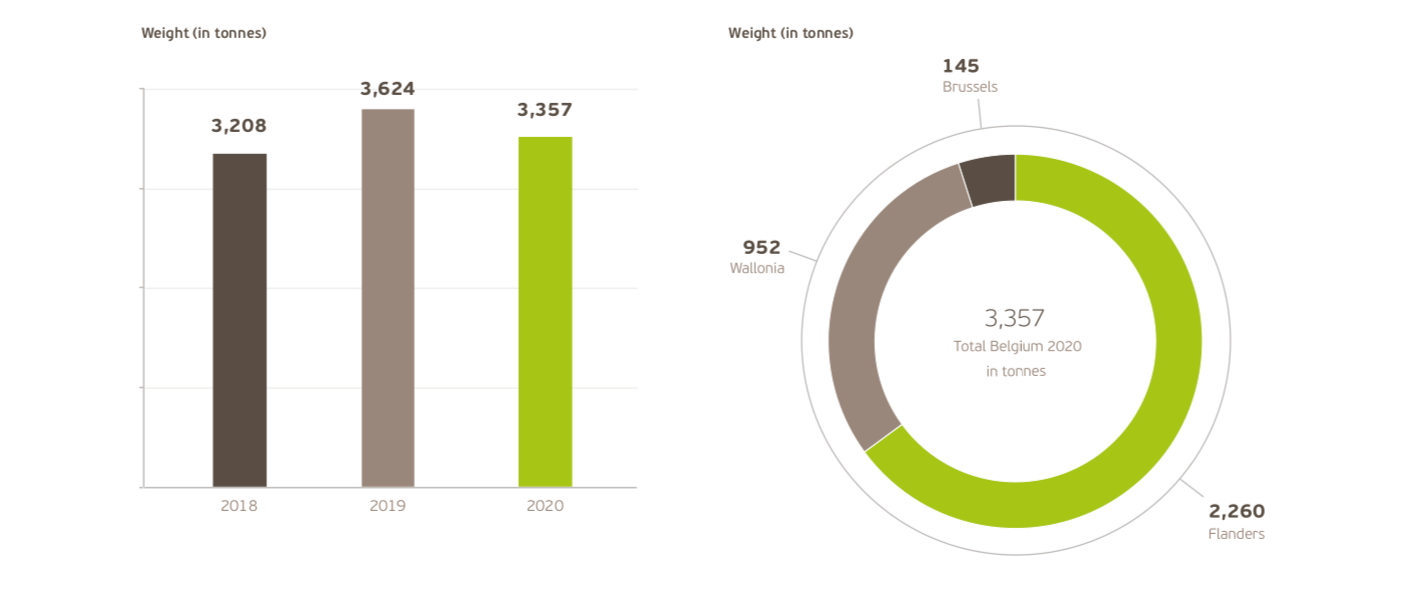 A total of 377 new participants affiliated with Bebat, mainly webshops and e-mobility organisations. At the end of 2020, Bebat had 3,674 participants! That is an increase of 11.4% compared to 2019.
More batteries in circulation
In 2020, the number of batteries placed on the market increased by almost 1%. Remarkably, the weight of those batteries decreased by more than 10%. So batteries are getting lighter and Belgium needs to collect more used batteries in order to match the same collected weight. 30% of the batteries that come onto the market are incorporated into an appliance or vehicle (and are therefore not sold separately).
Bebat scores in the living room
Whether it was our new TV spot or our radio spot, both were well received by the public. The spots and their message were well remembered and positively received. As a result, they both score as high as the best spots in the non-profit sector.
Our radio spot scored the highest points for no less than four parameters:
Brand consideration: 74% of listeners considered recycling their batteries 
Content likeability: 67% said the message appealed to them
Fanship: 64% became a Bebat fan
Net promoter score: 59% would recommend us to friends and colleagues
Marketing campaign with effect