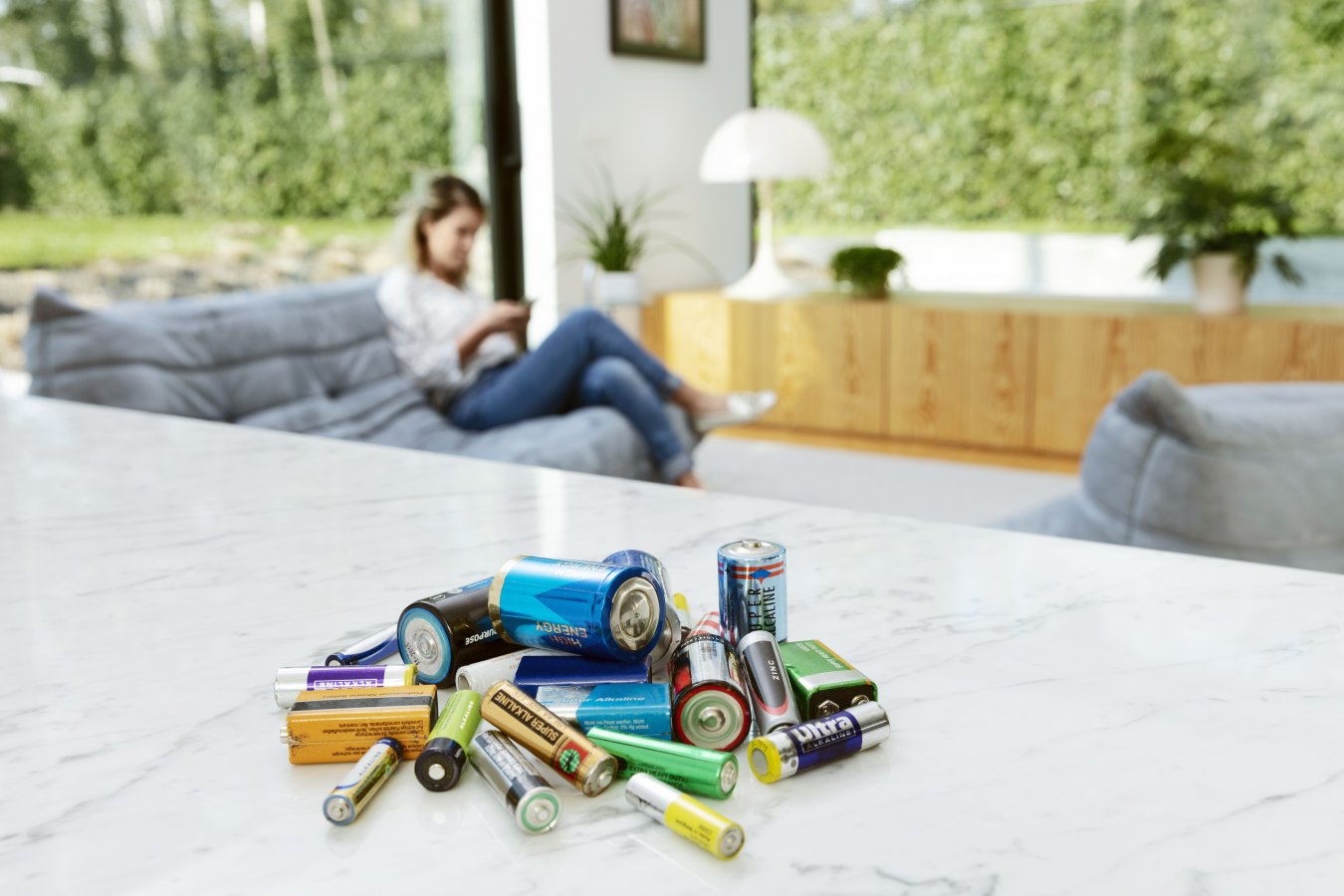 SOS batteries lying around! Useful tidying and collection tips.
At first glance, batteries are just handy little things that bring your devices to life. But underneath their innocent exterior lies a complex chemical composition that we should handle with care. Do you want to avoid short circuits, prevent damage from leaking batteries and help the environment? That calls for good "battery hygiene"! Find out in this article how to create order out of the chaos of used batteries.
The great battery clean-up
Is your home a battery battlefield? There is no reason to be ashamed, because in most households batteries are left lying around in the oddest places. However, did you know that with better battery management you can help nature and reduce the risk of minor accidents at home? Maybe it's time for a thorough clean-up. 
We challenge you to look for EVERY used battery in your home. Difficult task? These tips will get you started!
Batteries often end up in

junk drawers

and boxes

. It's time to turn them inside out and reorganise them. Not only will you find used batteries, but probably a lot of other stuff you forgot you had!

Check all

electrical

appliances

, small and large, in every room of your home. Want to bet that you can collect more used batteries than you think? Devices that we often forget are smoke detectors, old calculators, worn-out watches, old phones

or, for example, musical greeting cards

. Bonus: this is the ideal opportunity to test whether all your 

smoke detectors 

are still working properly!

Test the level of charge 

with a 

battery tester 

(link in dutch). Some devices require more battery voltage than others.

Perhaps a used battery from a power-hungry device can still live on in a device that requires less voltage? For example, a battery that no longer works in a toy car may still work in your clock or remote control.

The tester indicates whether your battery

is ready for the Bebat collection point or not yet

. This way you get the most out of your batteries and give nature more breathing space. 
Bonus tip for those with children: turn it into a major treasure hunt (link in dutch)! Who can find the most batteries? (Do supervise them closely and make sure they do not swallow (link in dutch) or come into contact with leaking batteries.)
Have you found all batteries? Then we have some tips on how to properly store them until you bring them to Bebat for their new life.
Storing batteries safely at home
There are some important points to consider when building your battery collection. Here are our storage tips:
Store used batteries in a box in a dry place at room temperature. Do not use a metal box to prevent possible short circuits. Twice a year, you will receive a cardboard cube from Bebat by mail. This is specially designed to collect and

transport

your batteries safely.

Request your box here.

Do not store your batteries next to an oven, and

certainly not in the refrigerator

. Temperature fluctuations and excessive humidity t will unbalance the battery content. 

Separate your discarded batteries from the new ones. . If you have similar boxes for full and empty batteries, use clear labels to avoid confusion.

Do not leave your batteries in discarded devices. Recupel takes care of recycling your appliances, but the batteries go to Bebat.

If the batteries are integrated in the appliance and it is therefore not possible to remove them safely, you can bring the appliance as a whole to Recupel. 

Do not store batteries and button cells in a pillbox. Because of their size and shape, they can easily be mistaken for medicines, and

batteries should not be swallowed.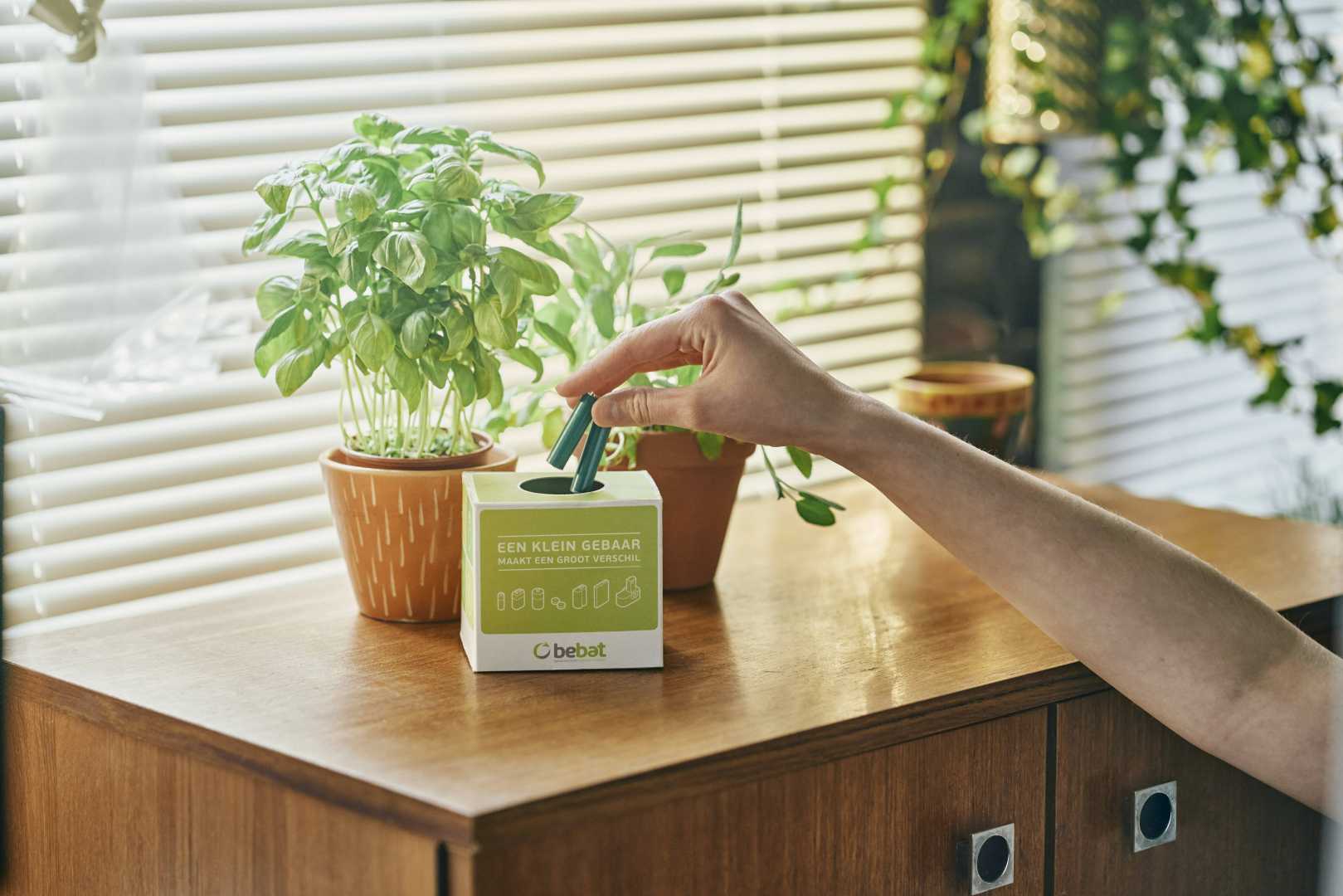 Good recycling habits
Recycling is a way of life. It requires a little effort in the beginning, but after a while it becomes second nature. What recycling plan works best for you? 
New in, old out: A good way to keep the balance in your home? Every time you buy something new, you also rid yourself of something old. Are you buying a new kitchen appliance? Take the old one to Recupel. Are you buying new batteries?

Take the old ones to a

Bebat collection point

. 

A fixed recycling day for batteries: You take out your carefully sorted waste every week. So why not schedule a fixed time in the calendar to take your

empty

batteries to a 

Bebat collection point

? The sooner you take them back, the sooner they can start their

new

lives. 
Ready to get started? Bebat would like to thank you in advance for your efforts. Because a tidy home is not only good for you, it's also good for the environment!