How did Belgium – the battery collection champion – do in 2018?
Bebat recently published its Annual Report. A tense moment! Did Bebat & the Belgians manage to surpass the record set in 2017 of more than 3,000 tons of used batteries? The answer is a resounding YES! Here you can read why 2018 is going down in history as a good year.
But first... the big question
What was 'the score' in 2018? In 2018, Bebat, together with all compatriots in the three regions, collected 3,208 tons of used batteries. In comparison with 2017, this is an increase of 5%. This brings the collection rate to 61.6%. This is well above the target of 45% in Flanders and 50% in Wallonia and Brussels – and well above the European norm of 45%.
So, Belgians once again lived up to their reputation as collection champions!
Once again, it was the commitment of all Belgians to 'donate' their batteries to the environmental cause that made all the difference. The increase in the collection rate was also made possible thanks to Bebat's dense collection network: 1 collection point per 500 inhabitants. To achieve this, our field promoters have put their best foot forward and have introduced many new collection points.
And that was essential, because more and more batteries from new devices, such as electric bikes, drones and e-cigarettes, have to be collected. In the satisfaction survey for our collection points, the average score was 90%.
Super satisfied, then!

Another great result
How many batteries were sold on the Belgian market in 2018? In total there were 232,870,974 units, compared to 223,243,758 in 2017. Together they accounted for almost 57,951 tons, more than 5,000 tons more than the year before. In 2018, the total weight of primary batteries sold on the market increased by 5.9% compared to 2017. In the non-rechargeable battery category, zinc-carbon (11.3%), alkaline (4.9%), silver-oxide (19.2%) and zinc-air batteries (7.9%) are on the rise.
The weight of rechargeable batteries increased by 9.1%, of EFV batteries for EFV by 46.7%, of batteries for e-bikes by 26.1% and of other rechargeable batteries by 7.2%. This reflects the growing 'weight' of smartphones, laptops and all kinds of electric vehicles as a whole.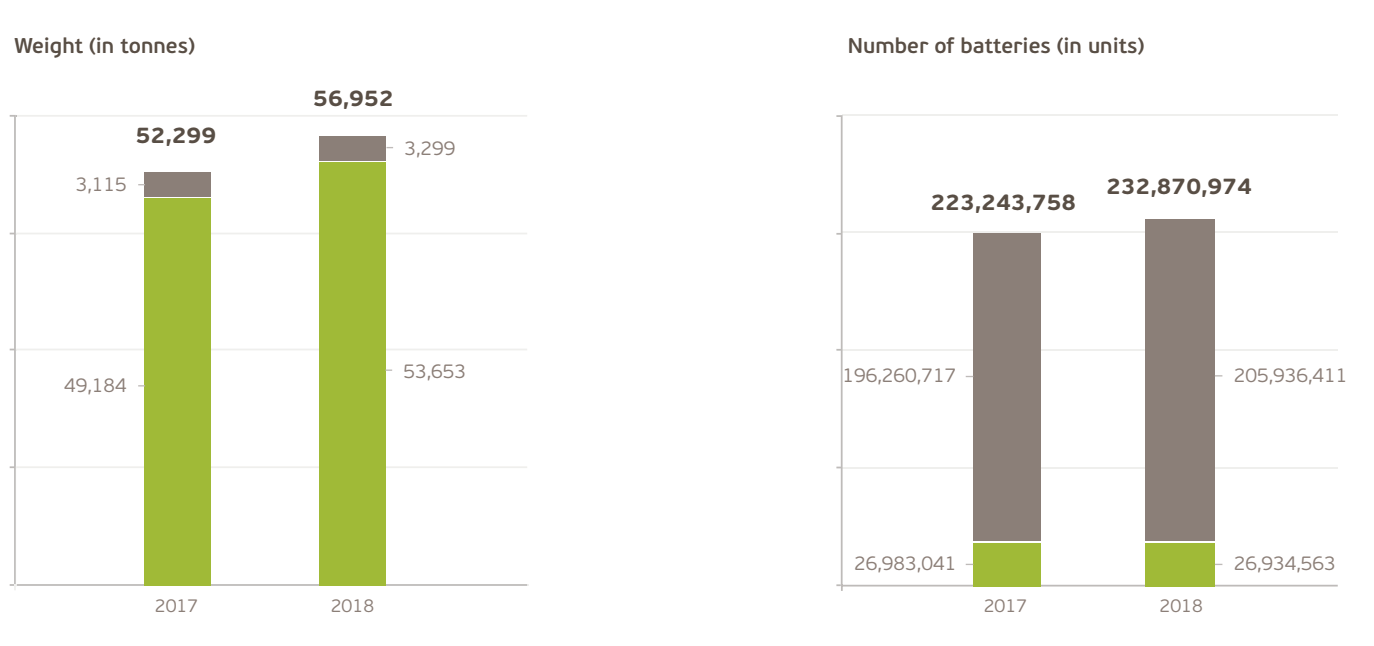 Increase in e-mobility
In March 2018, Bebat also attended Autotechnica. At the booth, the numerous professional visitors had the opportunity to watch a live demonstration of an EV (Electric Vehicle) battery being dismantled. Something that Bebat will be doing more and more of in the near future. To this end, there is an extensive 'menu' with services tailored to suit everyone in the car, truck, bus, boat, bicycle, and scooter sectors, as well as other forms of (micro) mobility. Bebat's field of expertise is the so-called aftercare phase, which starts when an EV battery has reached the end of its first life. Keywords here are recycling, reuse and second life. A subject on which Bebat also published its first e-book in 2018: 'E-mobility: what we can learn from Norway.'


Professional participants
Companies that sell batteries and/or products containing batteries on the Belgian market are teaming up with Bebat in order to comply with the legal take-back obligation. At the end of 2017, the MyBatbase declaration platform was updated and users now can join Bebat and submit their declarations online. As a result, the number of participants rose to 2,765 in 2018, including 549 new members, 96 of which are foreign webshops.

38,000 Bebat blog readers
Raising awareness about collecting batteries is also one of Bebat's tasks. The marketing activities seem to be working: only 1% of Belgians do not know where to return used batteries. And 95% of Belgians are familiar with the Bebat collection system.
In order to be able to provide accurate and relevant information about batteries to specific target groups and to strengthen our online presence, the Bebat blog was launched in early 2018. A new blog article every week – and that was clearly appreciated! In 2018, the blog had 38,000 readers.
Working with Bebat is now even easier
In 2018 – and in the years to come – we will be devoting a great deal of attention to making it easier to 'work with Bebat'. For example, we are launching Bebat Collect, a mobile app that allows any collection point to request a collection in a matter of seconds. The Reneos software was developed for the collection of EV batteries in all European countries, enabling close cooperation between all affiliated partners, including Bebat. In 2019, a new marketing strategy will be launched which will focus on 'a small gesture'. Discover the new TV ad here:
All facts & figures can be found in the 2018 Annual Report.
Maybe you'll find this also interesting